Past Events
past solare events
Below is a list of past Solare events.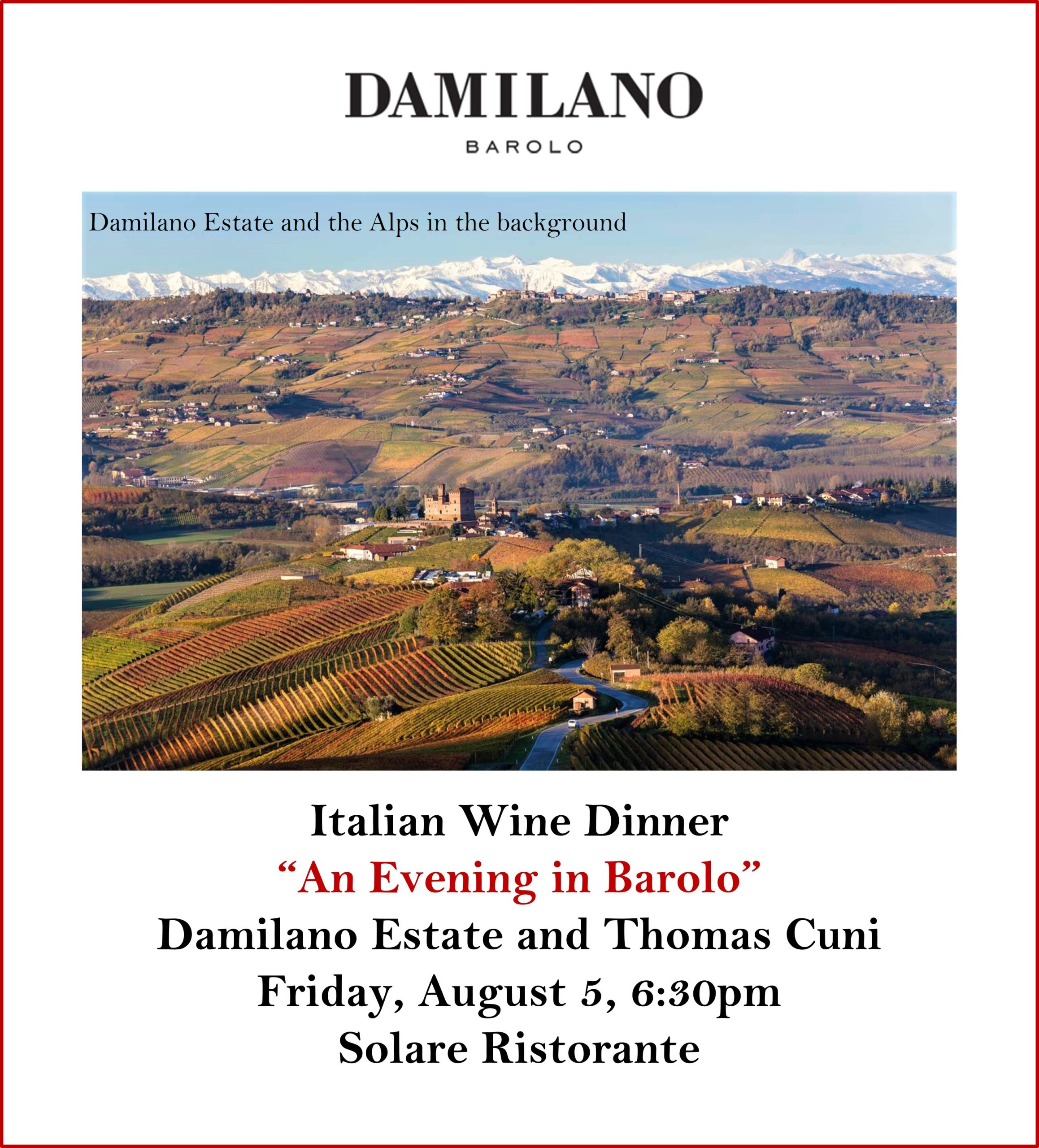 August 05 - Solare Wine Dinner – An Evening in Barolo with Damilano Estate
.
Solare Wine Dinner – "An Evening in Barolo" Friday, August 5.
I am delighted to announce that we just confirmed that Thomas Cuni from the legendary Barolo winery, Damilano Estate, is back in the US and at Solare to lead a very special Wine Dinner.
Damilano Estate was founded over 100 years ago in 1890, and is absolutely one of the top names in Barolo. They are one of the very few producers of Barolo from the Cannubi Cru.
We will be drinking some of the best Barolo and Piemonte wines on the planet – with a Solare 4-course pairing menu.
And guess what?? Thomas sent us a 5 liter bottle of 2013 Damilano Barolo from the Cannubi cru. Wow!! As you may know – Cannubi is considered the top Cru in all of Barolo. Click here to see the huge 5 liter bottle.
Thomas has been to Solare before – and he is amazing!
Wine Dinner Details:
• Friday August 5
• 6:30pm Reception and 6:45pm Dinner
• Limited seating – RSVP today.
• $98 includes the 4-course pairing dinner and 5 select Damilano Estate Wines
• Includes: Their 2013 Cannubi Barolo from a 5 liter bottle
• Request indoors or outdoors on our heated patios
• Reserve your table asap – very limited seating
Thomas will let us know firsthand what is happening right now in Barolo and Piemonte – and from what I learned at Vinitaly the '19's are tasting delicious. Thomas is very engaging and fun.
RSVP by calling 619-270-9670 or send us an email.
Hope to see you here!
-Randy and the Solare Team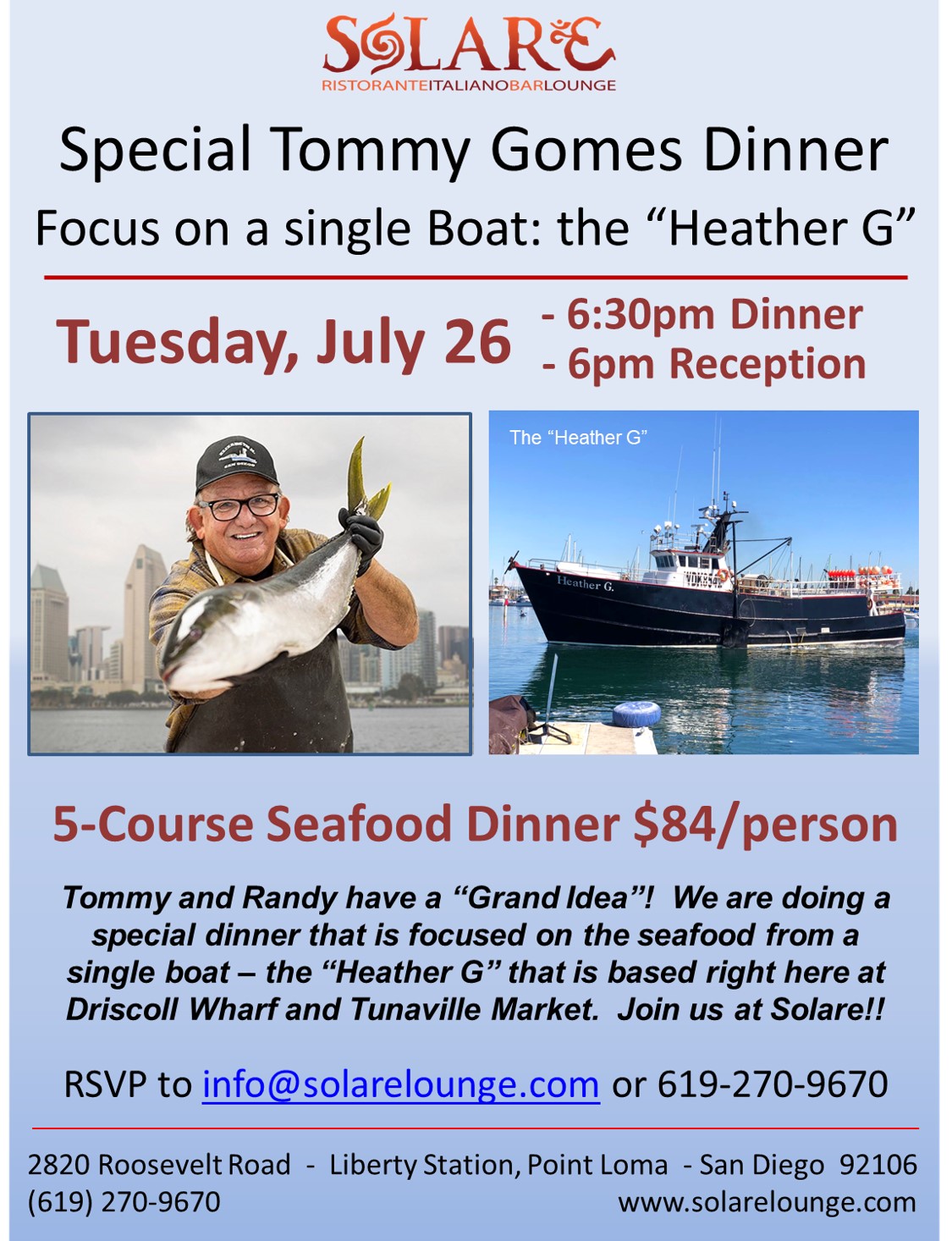 July 26 - Solare – Special Tommy Gomes "very local" Seafood Dinner
.
As I type this note, the "Heather G", a family-owned and operated commercial fishing boat, is on the Pacific Ocean off San Diego. It is bringing the best fresh seafood back to us!
Tommy Gomes and I just met – and we came up with a "grand idea"!
We are teaming up to do a special Tommy Gomes Dinner that is focused on seafood from a single boat, the "Heather G". This boat is based right here at Driscoll's Wharf and is owned/operated by Pete Close.
The dinner is this Tuesday, July 26. Seafood comes off Pete's boat – Tommy grabs it – we bring it to the Solare kitchen – and we feast!
Details:
July 26, Tuesday
6:30pm Dinner- 6pm Reception
Tommy Gomes, Star of The Fishmonger, leads the dinner and evening
Hear all about the Tunaville Market and Grocery
Focus on seafood from the "Heather G" local boat
Also San Diego local rock crab (yum!)
$84 includes the 5-course dinner
Optional wine pairing also available
Reserve today to reserve the table you want
Sign up to get your table! Call Solare at 619-270-9670 or click here to make your reservation.
This is local seafood at its best!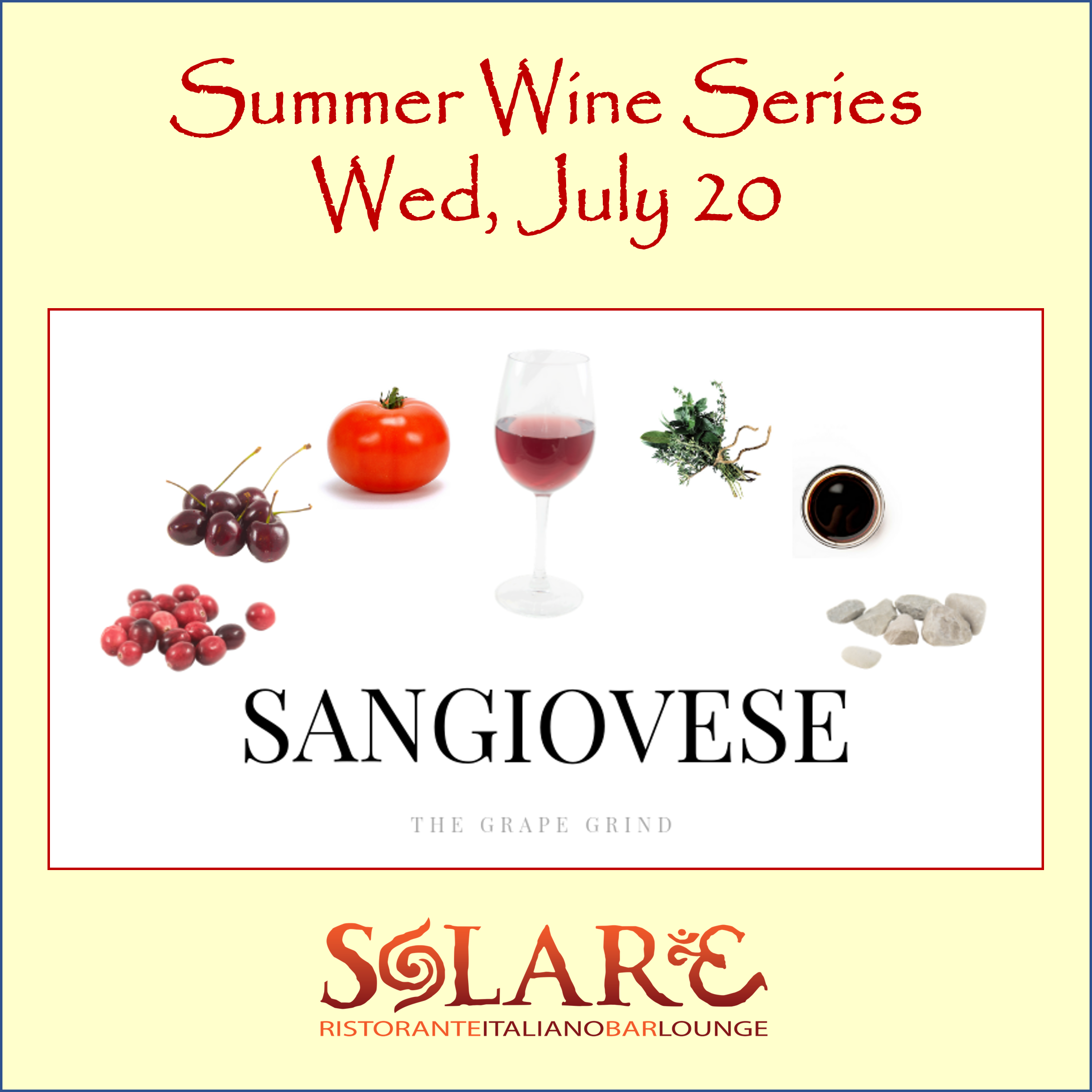 July 20 - Sangiovese! Solare Summer Wine Series
.
Sangiovese!!
Tommy and I started a "Solare Summer Wine Series" and our next one is this Wednesday, July 20.
And it is Sangiovese! We have selected 4 awesome wines that are 100% Sangiovese – and all are from fun regions – including Napa Valley.
Learn all about the varietal.
It's $38 and includes the 4 Sangiovese wines – and small bites from the Solare kitchen.
4:30pm to 6pm – go to the Solare website for all the details on all the Summer Wine Series tastings.
Let me know if you'd like to join us!
Tommy is running the series and the tastings and small bites – it is educational and fun!!
Sign up for one – two – or all of them!
Or, call us at 619-270-9670.
Summer Wine Series:
+ Jul 6 – Experience Prosecco (all done!)
+ Jul 20 -Explore Sangiovese
+ Aug 10 – All about Italian Rosé
+ Aug 31 – Sicilian wines rock!
+ Sep 14 – Baja in a wine glass
Details:
+ $38
+ 4:30pm to 6pm
+ On our side patio
+ 3-4 wines
+ Select small bites
+ Educational & Fun!
Sign up to join us!!
Solare Summer Wine Series!
July 04 - Solare is closed all day on July 4th
To allow our Team to be able to spend the 4th of July with family and friends, Solare will be closed all day on Monday, July 4th. We will be open again at 4:30pm on Tuesday, July 5.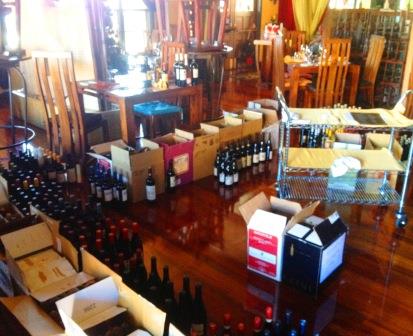 June 29 - Odd Bins ~ Wine Carnival!
Odd Bins ~ Wine Carnival!
Do you love wine? We do!
We buy a lot (understatement) of great wines from all across Italy and all along the west coast of North America. We just did an inventory of our wine cellar — and we have lots of wine where we have just one or two bottles left. With just one or two bottles, we really can't place them on our wine list – so now is the time to finish them off. And we need your help!
So today we will be opening many-many bottles and offering a fun, build your own wine tasting experience at bargain prices.
Here's how it works: From opening to closing there will be a "walking" wine tour available in the lounge and bar area. We will have a large selection of wines available in tasting pours. Some of the pours are just $3! We also have a couple surprise "high-end" wines that we decided to include to spice things up!
You'll have a lot of fun! If you like wine – you can't miss this. ~~ Contact us for more details at 619-270-9670 or info@solarelounge.com or just stop in! 😊
-Randy and the Solare Team
June 23 - Solare Wine Dinner – Chateau Montelena – Napa Legend!
Special Wine Dinner for Chateau Montelena!!
6:30pm Reception and 6:45pm Dinner
One of the most historic wineries in all of Napa Valley
Winner 1976 Judgment in Paris
Featured in film Bottle Shock
5 select Montelena wines/4 courses
Opening 5 liter 2005 Estate Cab!! 2005! Wow!
Also, 2017 Estate Cab!
Dinner led by Jock Busser himself from the winery
$136/person includes 4-course dinner and 5 wines
RSVP to info@solarelounge.com or call 619-270-9670
Yay!
-Randy and the Solare Team
1
2
3
4
5
6
7
8
9
10
>
>>
---