Events
solare events
Almost every week, the Solare Team is creating and having an event around food, wine, beer, spirits, music, and more. Here is our current schedule below. If you would like to host your own event for a family occasion or corporate event, please see our "host an event" page.

---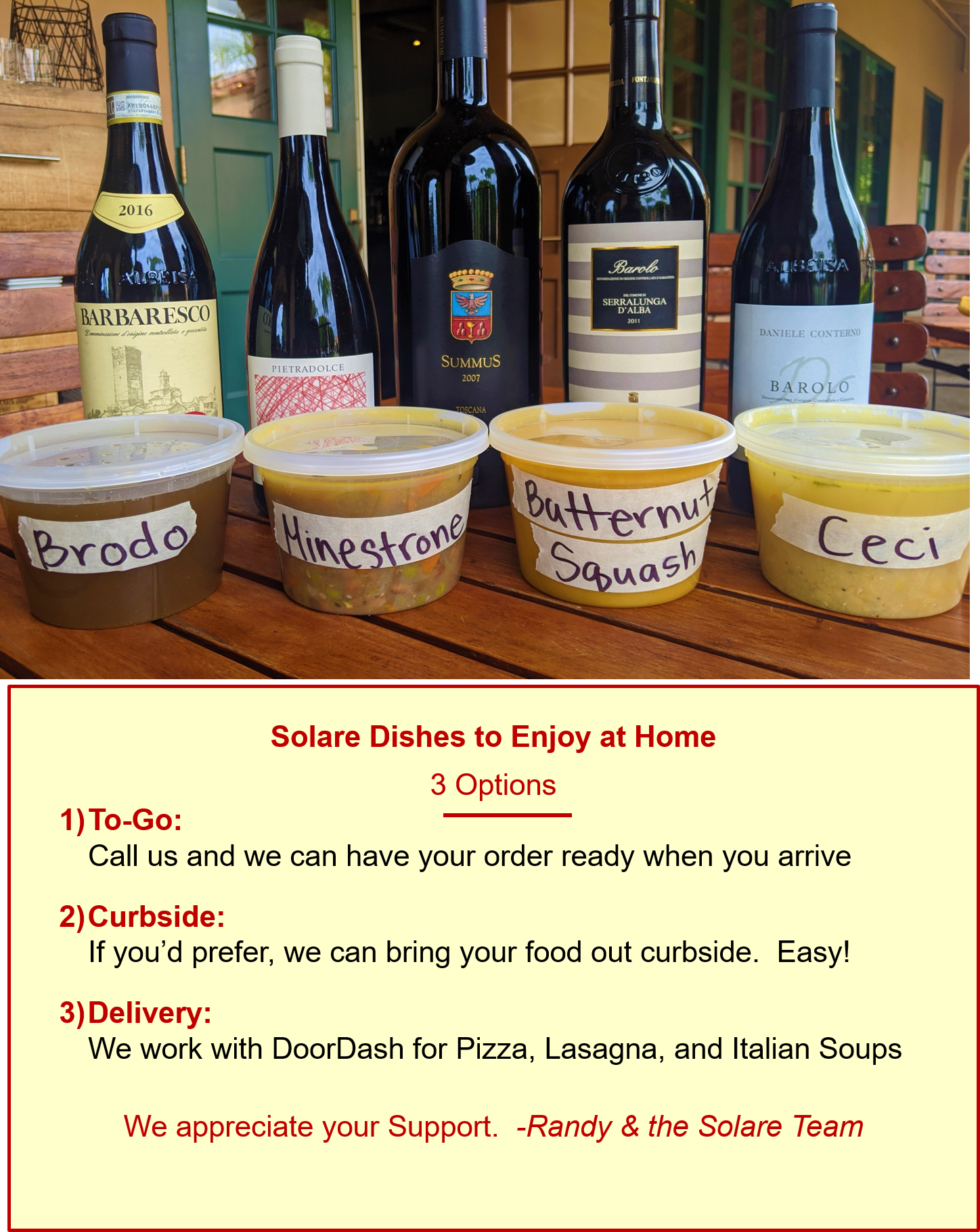 March 17 - May 31 - A Message from Randy and the Solare Team
April 29, 2020 — We continue to be safe at Solare – and I am delighted to report that all of our Team members and their families are healthy – and we stay in close communication.
And Solare is Open 7-days a Week for Take-Out, Curbside, and Delivery. For Delivery we use DoorDash and Grubhub.
Our current hours are:
4pm to 8pm Sunday to Friday
12pm noon to 8pm Saturdays
Call us: 619-270-9670
You can continue to enjoy the delicious dishes we prepare at home – and there are three ways you can make that happen:
To-Go: Call us at 619-270-9670 and we can have your order ready when you arrive (see our menus online)
Curbside: If you'd prefer, we can bring your food out curbside. Easy!
Finally, we are maintaining our online community on Facebook and Instagram – and emails and calls to us. We're here to keep the conversation going and to answer any food and cooking questions you have.
In fact, if cannot enjoy our Solare dishes, and you are cooking Italian dishes at home – let us know if you have a cooking question we may be able to answer – contact us! We are here with you no matter what.
Food is the power that brings us together.
With Love,
-Randy and the Solare Team
Events and Parties
Have your special dinner, lunch, or party at Solare. We have a great venue with easy parking – and our Team is ready to make it a huge success for you! Solare Events Planning info here.
---