Events
solare events
Almost every week, the Solare Team is creating and having an event around food, wine, beer, spirits, music, and more. Here is our current schedule below. If you would like to host your own event for a family occasion or corporate event, please see our "host an event" page.

---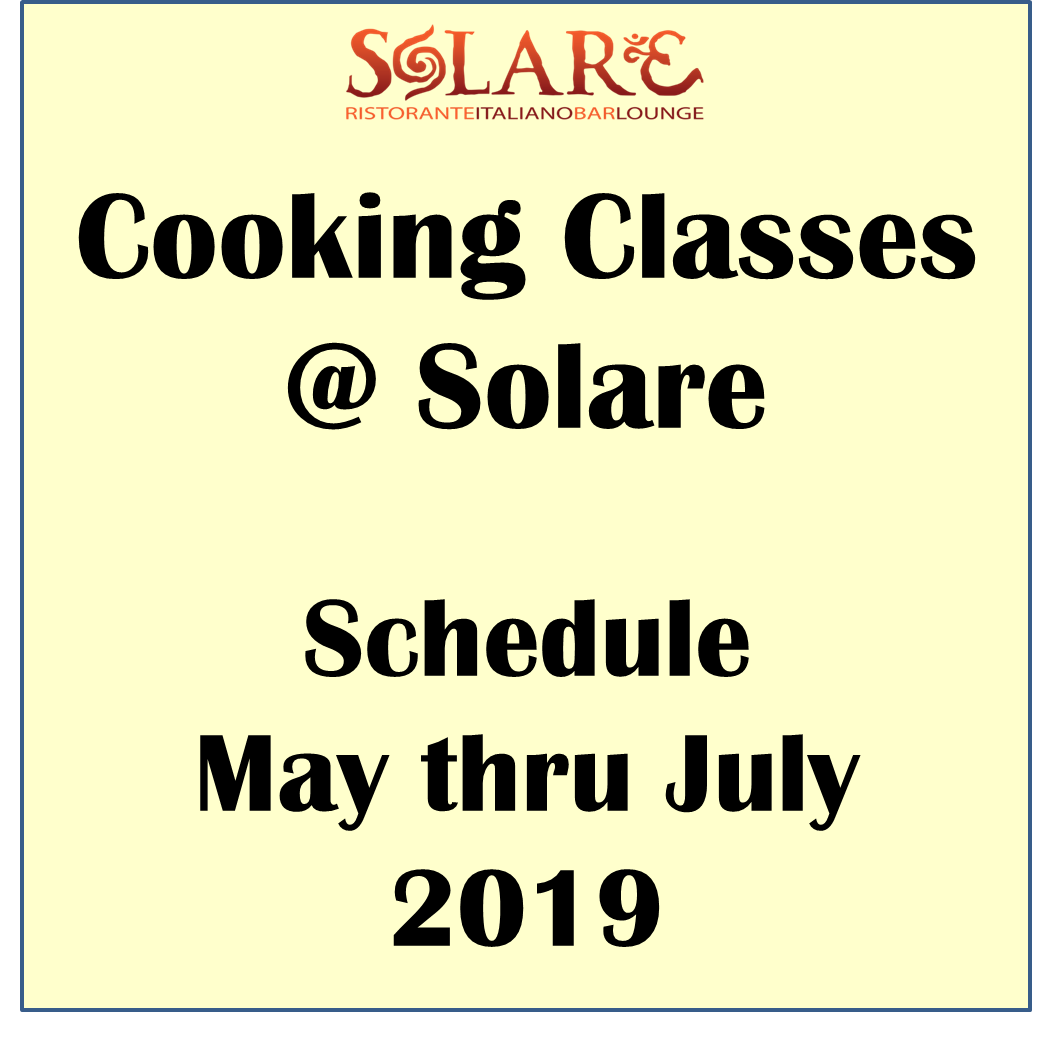 May 01 - July 31 - Cooking Classes at Solare ~ Hands-on!
Ciao!! Here is the Solare Cooking Class Schedule for May, June, and July:
+ May 25 – Fish + Seafood (sold out)
+ Jun 8 – Pasta from Scratch (sold out)
+ Jun 15 – Pizza (sold out)
+ Jun 29 – Gnocchi
+ Jul 13 – Lasagna with Maria (sold out)
+ Jul 27 – Tuscan Meats including La Fiorentina (sold out)
Our Cooking Classes offer a truly hands-on experience in a commercial kitchen allowing each student to create Italian cuisine themselves to make at home. Our classes are not a "demonstration".
The classes are held pretty much every other Saturday, and the fun typically starts at 10:30am at Solare (10am for some classes) with an Italian-style coffee of your choice and a pastry. Italian wine is served for students interested in "cooking with wine".
The Classes do sell out fast due to the limited size. Please call 619-270-9670 or email us to make a reservation for a Class: info@solarelounge.com
-Randy
June 23 - Summer Solstice Epic Dinner – Congé
Don't Miss The Exciting and Avant Garde Progressive Dinner Experience June 23rd with Solare Ristorante's Chef Filippo Piccini and the legend herself, Chef Flor Franco. Creating their Scrumptious Dishes and Connecting them to Beautiful Expressions of ART!
The One-of-A-Kind Dinner Party Features a Special World Premier of New Choreography from San Diego Dance Theater, Music by Electric Aerial Dance Violinist Marta Z, Flamenco Guitarist James Clarkston. Exclusive Interaction with the Extraordinary Group of ARTS DISTRICT Fine Artists and San Diego Landscape Photographers plus much more! Start Your Summer with Fun and ART and Enjoy the Most Unique Dinner Experience in San Diego!
Purchase Your VIP and Regular Admission Tickets in Advance – click here: palettexevents.com
Congé: 1) a formal permission to depart, 2) a ceremonious bow
Oh! And Edwin Real – Eating & Drinking San Diego – is the Emcee!
Do this. -Randy
June 29 - Cooking Class: Gnocchi and Bolognese
A full immersion in gnocchi and slow braised Bolognese sauce — the essence of the Emilia-Romagna region. You will learn to twist the traditional recipe of gnocchi, by filling them with sausages, by creating different tastes, and shapes, so you can surprise your family and guest at home. The fun starts at 10:30am at Solare with an Italian-style coffee of your choice and a pastry. Italian wine is served for students interested in "cooking with wine". – Class sized limited to 10 persons – $85/student that includes the class, wine, and lunch. Reserve today via email or call 619-270-9670
Events and Parties
Have your special dinner, lunch, or party at Solare. We have a great venue with easy parking – and our Team is ready to make it a huge success for you! Solare Events Planning info here.
---