Events
solare events
Almost every week, the Solare Team is creating and having an event around food, wine, beer, spirits, and more. Here is our current schedule below. If you would like to host your own event for a family occasion or corporate event, please see our "host an event" page.

---
June 04 - Margarite's Amazing BYOM Event!
Margarite says:
"Friends, Food, Fun, Frivolity…Together served with magnums of great wine".
Keeping the tradition in grand style in 2023 with the (16th.) annual Bring Your Own Magnum (of your yummiest wine) Party, Sunday, June 4th, 2:00 P.M. – 5:00 P.M. at "Solare Ristorante in Point Loma at Liberty Station". Red, white, Rosé or Sparkling, it's all good!
Featuring special Guest: Wine Columnist Frank Mangio, of "Taste of Wine & Food". Please use your tastiest wine discretion.
You may want to dine at Solare Ristorante when magnums go dry. For anyone interested in dinner reservations following the event, should make a Reservation asap here – click here; the full Solare menu is available, and there will be no corkage fee for anyone staying for dinner.
In addition, to enhance our celebration at BYOM, we thought it would be nice to share with those less fortunate, especially as these have been challenging economic times for many.
If you would like to contribute non-perishable food items to St. Vincent De Paul Village of "Father's Joe's, http://my.neighbor.org/ they would greatly appreciate the donation and a bin will be set up to collect them at the party.
Thank you, and best wishes!
Your donation may be tax deductible please review with your accountant for guidelines. (Here is the Tax ID for Father Joes' 33-0492302).
Or if you prefer please make a donation to the Moores Cancer center at UCSD. https://healthsciences.ucsd.edu/advancement/initiatives/cancer/Pages/give-now.aspx
RSVP, Via Email or 858-997-7634 ~ Thank you!
See you on June 4.
Margarite and Randy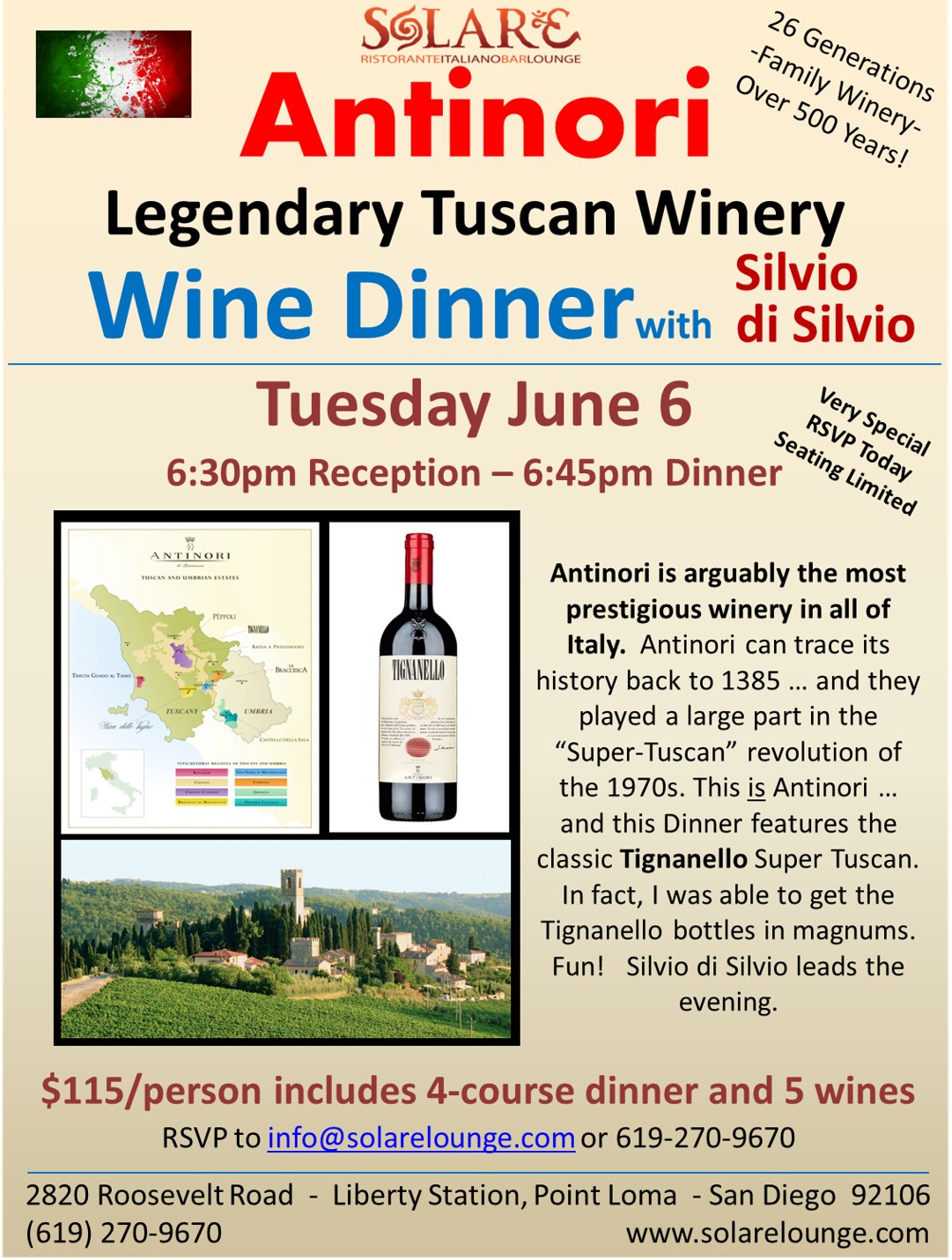 June 06 - Italian Wine Dinner with legendary Antinori Estates
This is a big one! Italian Wine Dinner on Tuesday, June 6. 9 days from today.
I am delighted to announce that Silvio di Silvio will be here leading an evening focused on the great wines of Antinori Estates.
We are featuring Antinori's Tignanello Super Tuscan wine (very special!) and I believe that I am able to get it in magnums for the dinner.
Antinori is arguably the most prestigious winery in all of Italy. Antinori can trace its history back to 1385 … and they played a large part in the "Super-Tuscan" revolution of the 1970s.
Click here to Reserve your seats – or call us at 619-270-9670.
Here are the details:
Tuesday June 6
6:30pm Reception ~ 6:45pm Dinner
Silvio di Silvo leads the dinner
$115 includes 5 select wines from Antinori Estates and 4-course menu designed by Exec Chef Denice Grande
The menu is focused on the delicious cuisine from Tuscany!
Tignanello Super Tuscan is featured
This Wine Dinner is a little pricier than normal due to the extra high-end nature of these wines
Reserve your indoor or heated patio seats asap
Contact us asap – I really hope you can join.
-Randy and the Solare Team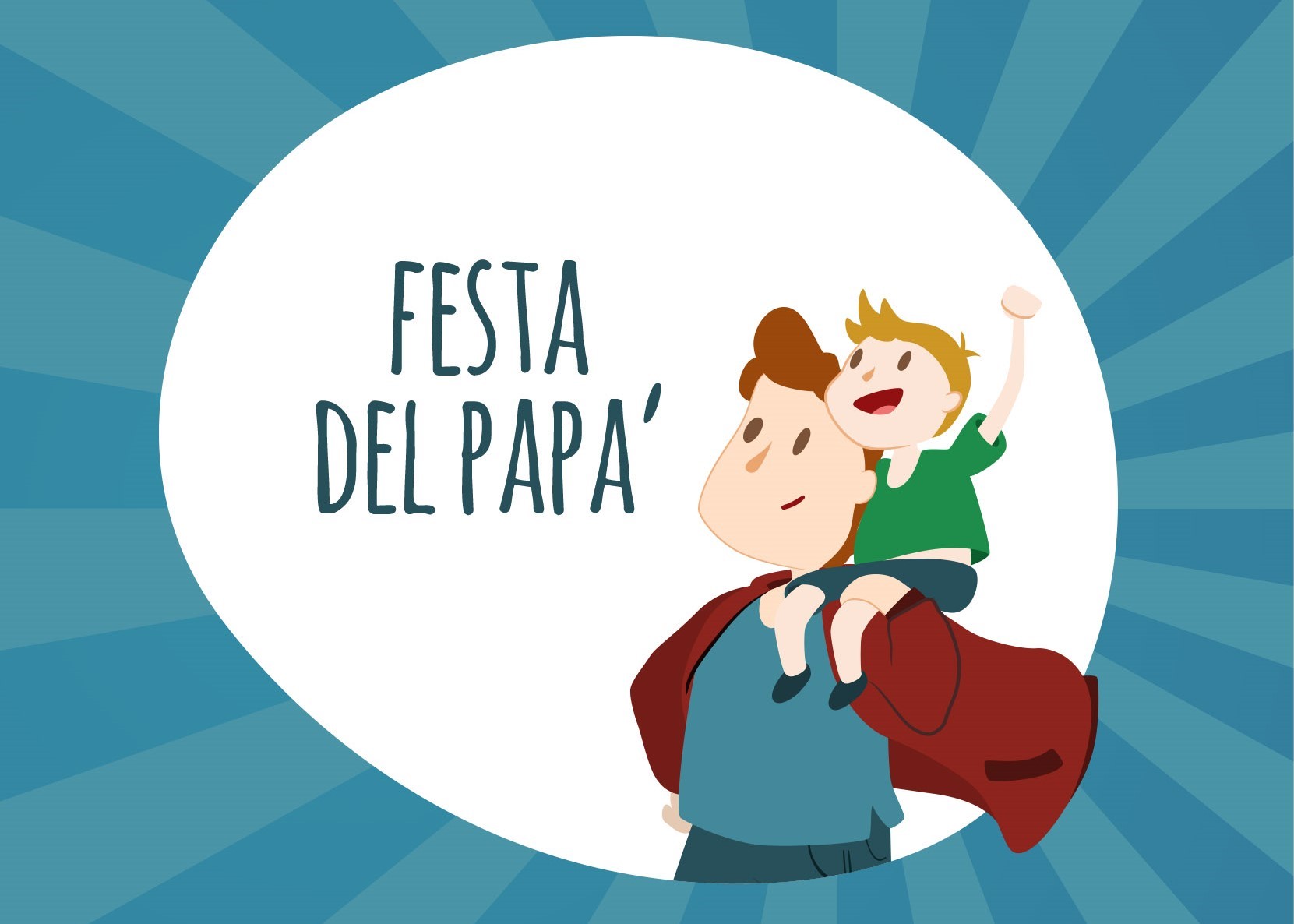 June 18 - Father's Day at Solare Ristorante
Father's Day will be here before you know it – and now is the time to make your reservation so you can get the best times for a delicious menu that we designed. We're offering a special à la carte menu for Father's Day that you will love – and we have our Full Menu too.
We open at 10:30am. Make your reservation here while the best times are still available or call 619-270-9670.
Experience Solare!
Events and Parties
Have your special dinner, lunch, or party at Solare. We have a great venue with easy parking – and our Team is ready to make it a huge success for you! Solare Events Planning info here.
---